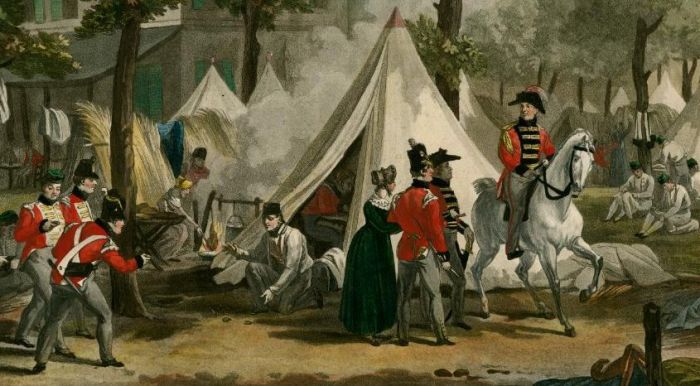 For as long as anyone can remember, British soldiers have been traditionally nicknamed "pongos". If you ask a sailor, marine or airman where the nickname comes from, they might tell a lame tale: "soldiers are in the dirt and so they are where the pong goes".
But that is not a very convincing explanation. It sounds a little contrived, as a secondary explanation for a term after the original understanding has been lost.
The answer could lie in the Napoleonic wars and a foreign land. One legacy from the British Army's overseas campaigns has been the fragments of foreign language which have been adopted as slang. For example, a key French phrases to be mastered by a British soldier of the Great War  was to ask for an alcoholic drink.  "Vin blanc" as mangled by a Tommy led to "plonk" entering the English language as a slang for for cheap white wine.
During the Napoleonic wars the British Army was based in Portugal from 1807-1814. The Portuguese word for bread is written "pão", and pronounced "pong". We know that the Peninsular War soldiers used the term "pong" as there is a letter from a soldier complaining about the lack of "pong". One of the distinctive differences in service between the sailors and soldiers of the time is that sailors lived on biscuit while, in the peninsular at least, the army lived on bread. So a sailor meeting Wellington's Peninsular soldiers, and hearing them complain about the quality or quantity of "pong" might reasonably refer to soldiers as pong-goes – bread eaters.
So maybe, when the jolly jacks and the crabs call soldiers  "Pongos" its not an insult. Its a reminder of the British Army's traditions and the men who beat old Boney's men over the hills and far away, in Flanders Portugal and Spain..
..and the next puzzle is which Indian term for a snack gave rise to the term "Egg banjo" for a fried egg sandwich.